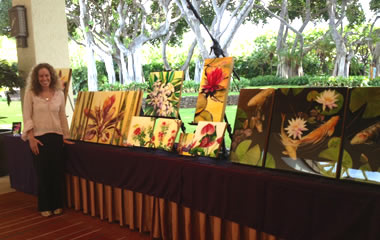 I have long been fascinated by Japanese art. The woodblock print artist Tsukioka Yoshitoshi and lacquer artist Shibata Zeshin have been my life-long inspirations. I admire they way they "see" and capture nature with grace and elegance.

I create paintings in a tropical Asian style. Being raised in Japan and Hawai'i, I integrate both cultures into my work. Walking through my Maui garden past the koi ponds, lush bamboo groves, and ti plants to my art studio, I am filled with endless inspiration.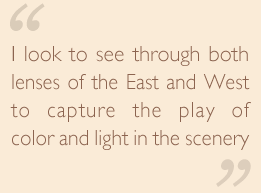 I look to see through both lenses of the East and West to capture the play of color and light in the scenery.

In Japan before there was plastic, there was lacquer. Shiny, durable, and waterproof, lacquer was coated on wood. Inspired by tradition, I mount my paintings on panels and then seal them with layers of a lacquer-like varnish. The result is a brilliant and innovative presentation.
BACKGROUND
Eleykaa Tully was raised in Japan and is bilingual and bicultural. Her parents have a Japanese antique business and often took her and her brother traveling around the countryside of Japan looking for unique treasures. From age seven she attended Japanese brush painting classes. Her teacher, who always dressed in an elegant kimono, would slide open the shoji doors that overlooked the garden and say, "Look at the sparrows chirping on the cherry blossom tree. Let's paint that today."

Eleykaa captures nature with Japanese watercolors and bamboo brushes. She creates paintings on panels and then coats them with layers of enamel glaze. The effect is an elegant, glass-like finish.

Eleykaa is a full time artist who lives with her nine-year-old son and cats in Kula, Maui.

SELECTED EXHIBITIONS
* Solo Shows
2017, 2016, 2015, 2014
Celebration of Hawaii
Viewpoints Gallery, Makawao, HI
Invited Show




2016
Malama Wao Akua 2016
Hui No'eau Visual Arts Center, Makawao, HI
Jurors: Pat Bily and Melissa Chimera
2014
Maui Masters
Lahaina Arts Society, Lahaina, HI
Malama Wao Akua 2014
Viewpoints Gallery, Makawao, HI
Jurors: Abigail Romanchak and Jordan Jokiel
2013
Malama Wao Akua 2013
Viewpoints Gallery, Makawao, HI
Jurors: Hank Oppenheimer and Jan Sato
Awarded "People's Choice" Award
2012
A New Day*
Lahaina Arts Society, Lahaina, HI
2009
Where The Temple Begins*
Lahaina Arts Society, Lahaina, HI
2006
Group Exhibition
Lahaina Arts Society, Lahaina, HI
2005, 2004,
2003, 2002,
2001
Art Fair Invitational
Hui No'eau Visual Arts Center, Makawao, HI
2005
From Dark to Light*
Dongurikobo Gallery, Kamakura, Japan
2004
Romance*
Dongurikobo Gallery, Kamakura, Japan
2002
Maui Watercolorist's
Juried Watercolor Exhibition
Viewpoints Gallery, Makawao, HI
Juror: Shige Yamada
Art on a Tray
Hui No'eau Visual Arts Center, Makawao, HI
Into The Light*
Dongurikobo Gallery, Kamakura, Japan
2001
Exceptional Trees of Maui
Juried Exhibition
Lahaina Arts Society, Lahaina, HI
Moments In My Days*
Gallery Kazu, Kanagawa, Japan
Gallery O-Two, Gunma, Japan
Dongurikobo Gallery, Kamakura, Japan
2000
First Paintings*
Gallery Spotlight, Tokyo, Japan
Art Space 88, Tokyo, Japan
Dongurikobo Gallery, Kamakura, Japan
AWARDS
People's Choice Award - Malama Wao Akua Exhibition 2013
MEET ELEYKAA
Banyan Tree Art Fair (Lahaina, Maui) [map]
Most Weekends
Contact Eleykaa for details >


REPRESENTATION
Lahaina Arts Society, Lahaina, Hawaii
Maui Hands, Paia and Lahaina, Hawaii
Nohea Gallery, Honolulu, Hawaii
Viewpoints Gallery, Makawao, Hawaii
EDUCATION
University Of Hawai'i at Manoa, Hawaii (International Studies, BA)
International Christian University, Mitaka, Tokyo, Japan
Punahou High School, Hawaii